Have you ever had a moment where something as simple as the internet stops working and you had to call customer service and wait on the line for an hour to reach someone just to figure out what was going on? Suddenly everything you were doing is on pause and productivity is down the drain while you're at the mercy of the internet provider. If you had an IT services professional, you have the advantage of being able to stay focused on doing what it is your do best without interruption.
Not having a managed service provider (MSP) for small and medium businesses means that you may have to fend for yourself if technology fails you, and that could mean hiring a lone-wolf IT professional for quick, expensive, surface-level fixes. Someone who walks into your network without full comprehension of the ins-and-outs of what your business needs can spell disaster. Not only may you think you're getting a fix, but you may also get gaining new problems with any settings or equipment that was ignorantly tampered with.
You've probably read the basics of what to look for in an MSP such as Disaster Recovery, On-Site support, Consultative Services, and even Proactive Maintenance, but what generally is overlooked are the finer details that many people forget to ask about.
What are you going to be charged for?
If you need consultative services are you going to be charged for that? Will your MSP tally up a fee for wanting to do a comparative analysis of your current managed services such as internet, network security, or other subscriptions? What are administrative fees and why are you being charged for them? Many of these charges may be warranted, but don't go into a relationship with an MSP that doesn't disclose the why or how much when services are required.
What is Proactive Maintenance?
Now, I've done my fair share of digging around. I've found that many MSPs consider proactive maintenance to be ensuring that your network is running the most updated software. It goes far beyond this! Patches, latest software updates, and the most current operating systems are all necessities, but proactive has such a broader importance. Do you have warranties in place to ensure that if a critical piece of infrastructure goes down you won't be blindsided by not being able to replace it? Are those pieces of equipment getting ventilation, space, and security to persevere through 24/7 and 365 operation? Don't just think proactive, think preventative.
Have they ever asked for your credentials?
For any IT managed services it is critical that they actually take the time to gather all necessary login credentials so that they can properly manage your network and subscriptions. If they've never asked, what exactly are they doing for you?
Do they only offer one type of support?
On-site only? That isn't a good sign. Not all issues need to be addressed in person and it takes time to schedule a technician to coordinate with your schedule and come on-site for simple fixes. Some things can easily be resolved with a ticket and remote support, provided that the MSP has installed remote agents on your workstations and servers. This allows simple reboots, software issues, and patches to be performed without any ever having to step into the building. It also means that many things can be taken care of under the hood, wrapped into the monthly cost of your managed services instead of hourly on-site fees.
Something to look forward to with the right MSP:
Multi-layered security stack:
Firewall gateway antivirus

Intrusion protection

DNS filtering

Advanced Persistent Threat detection

Threat Detection and Response

Advanced email filtering

Advanced endpoint protection

Website filtering

GeoIP filtering
Are your IT professionals approachable and available?
You should know how to get in touch with your managed services professionals. Whether it is a phone number, support email address, or swift ticketing system, they should be kind, professional, and responsive! The people that you trust to keep your business at optimal levels should take your technology needs just as seriously as their own because it is a cohesive relationship. You should be a team.
Is the MSP you've chosen innovative and adaptive?
As frequently as an enemy hacker changes up their tactics to construct a new phishing email or key-log the credentials section of your business website, so too should your managed service provider. Making sure that the services they're offering are effective and appropriate for the threats at large to your business make them efficient and superior to those that have stuck with the same solution since they opened a decade ago. Technology is forever changing, and your managed IT professionals should be cognizant of that with their security solutions, whether those are antivirus/antimalware solutions, remote monitoring, firewalls, or multi-factor authentication protocols.
Don't just take whatever technology professionals are most convenient, instead, partner with MSPs who take the time to hear your goals for future growth, help budget and plan for IT longevity, and focus on solutions unique to bottlenecks within your business.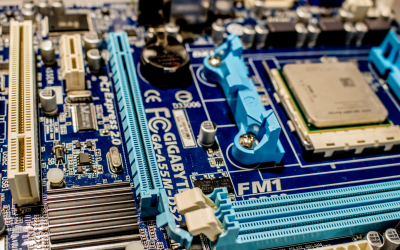 Hard to procure electronics - why are they so expensive?   The price of electronics is skyrocketing, and it could very well be the new normal for the next few years. Considering we are heavily involved in information technology, being a Managed Service Provider (MSP),...