Commited to providing exceptional IT services
Every member of our team is dedicated to service your needs and keeping your organization operating at peak performance. Our team's unique skillsets can be leveraged to enhance out-of-the-box solutions to drive the return investment with technology purchased and help to steer your business away from pitfalls.
At More Power Technology Group, we maintain a vital set of moral and ethical core values that define who we are, how we live, and how we work. By honorably applying these values in everything we do, our customers will always know what to expect from us, as well as what we can hope to achieve together.
About More Power Technology Group
More Power Technology Group was founded in Rainier, OR in 1994 as "More Power Computers, Inc." Since then, we have built an exceptional reputation throughout the Pacific Northwest by abiding to a simple philosophy of using our experience to deliver the best strategically aligned solutions to meet our customers' organizational objectives. Our commitment to this philosophy has allowed us to enjoy strong growth over 25 years, even throughout tough economic times and with the ever-increasing pace of information technology.
From humble beginnings as a small retail store offering new or used computer parts and simple PC repair services, we have expanded to include a broad range of solutions that are based on industry-wide best practices, continually proven technologies, and expert technical and support staff.
Our Awards & Certificates
More Power has been recognized by the Computing Technology Industry Association for A+ Gold Rating Managed Services Trustmark. More Power is also a Microsoft Small Business Specialist and a Microsoft Authorized Education Reseller.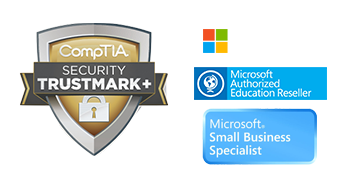 More Power Technology Group can be an outsourced IT department at your fingertips offering strategic managed IT services through our MoreAwareTM program for your small to mid-sized organization.
More Power Technology Group offers Cloud-based Services like Disaster Recovery, Business Email Security, and Anti-virus/ Anti-malware solutions to help reduce risks and threats.
More Power offers a list of internet services that can be maintained within a subscription model or software purchase to support business needs such as Web Hosting, DNS Hosting, SSL Certificates, Domain Registration/Renewals, etc.