Picture another normal day at the office. Regular deadlines, all employees bustling to collaborate and get their projects finished, wrapping up reports, and standard production. Suddenly, your main server dies. Not only did your organization not invest in a failover server, but they didn't budget for a new one. It is important to plan for unexpected hardware replacements by building out a sufficient budget, so your organization doesn't get blindsided with surprise expenses. This is the day and age where technology is at the forefront, driving business progressively through the treacherous waters of the COVID pandemic. This article will detail what you should be planning for, how much you should set aside, and why a specified Information Technology (IT) Budget is so important.
One of the more common roadblocks for many organizations is the lack of a standardized IT budget. This budget is put in place just like any other, with anticipated expenses that allow you to plan for disasters without a hindrance on other delegated and spoken for finances. The hardest thing to plan for is the unknown, especially with the current climate of business while COVID is still dictating how daily operations are conducted and what equipment can be used. So, where do you start?
A good place to start is to figure out the most updated technology replacement costs for your organization's most critical infrastructure. Think of these pieces as the oil to the engine, and without the oil the engine just won't run. Instead of taking any one item cost, look at the most expensive. If you have multiple servers, check out the market price of replacing the beefiest equipment in the organization because as soon as the warranty runs out it is susceptible to needing replacement. This functional equipment can mean a server, critical employee workstations, industrial printers, and even the worst-case scenario cost of having an IT professional come on-site and work hourly under emergency rates.
In addition to critical infrastructure replacement budgeting, it is imperative that warranties are taken into consideration. The better the warranty, the faster the replacement and less downtime. Some warranties offer 1-2 days replacements on servers and whether or not you decide to opt for the best warranties is really if you think your organization could stand to have that piece of infrastructure go down for an extended period of time. In most cases, it is business best practice to ensure all equipment has an existing warranty to extend the return-on-investment.
Considering the expected lifespan of workstations—whether desktop or laptop—is 3 to 5 years, and the expected lifespan of a server is typically 5 to 7 years, an organization would be well-off to know the age of their equipment and to plan to replace in a timely manner. This is part of any budget ensures that the software needed to maintain HIPAA compliance such as the updated and supported Microsoft operating system (OS), can be downloaded on the servers and workstations. Having an updated OS helps an organization maintain other important software application updates such as the latest version of QuickBooks or Customer Relationship Management (CRM) software for everyday use.
If you can't afford to buy new workstations it might be a good idea to think about outsourcing. Some IT companies offer the option to finance equipment, so the expense of computer replacement isn't so devastating on the pool of budgeted money. Simple solutions such as random access memory (RAM) and solid-state drives (SSD) are also quick, cost-friendly upgrades that can be added to any budget. Just know that the lifespan still matters, and by the time you finish paying off the equipment you financed it may be due for replacement again.
Now, you might be thinking that this sounds like quite the extensive list of things to plan for already. Between replacing servers, expiring workstations, warranties, and potential on-site technical assistance expenses, those are just some standard boxes to check. One should also have a strategy for keeping track of any expiring subscriptions, especially hardware as a service such as a firewall where a critical security service might no longer be available to protect the entirety of your organization's network; The gate-keeper to hackers seeking the sensitive information on the servers may become vulnerable in the event this goes overlooked. If you manage your subscriptions by paying for them annually or bi-annually, it should be noted somewhere and calculated into the IT budget for the expected year of renewal. Allowing things to expire is easy, especially if you aren't tracking the breadcrumbs.
Lastly, the entire reason behind having an IT Budget is to make sure that your organization has the efficient means of taking care of your customers. You'll want to have functional workstations, a reliable server, backups for your data, and upgrades when things seem to lag in performance. If the employees can't do their jobs, then the customer experience may fall behind. Meeting customer expectations through smooth and continuous workflow is a key factor to sustained business and growth. That being said, the IT Budget your organization had in 2019 is likely vastly different than the IT Budget needed for 2021. Make sure to re-evaluate your budget year to year and have a budgeting process that allows you to set aside the proper funding.
If yearly plans seem too daunting, plan on quarterly adjustments if any need to be made along the way so you can correct it before the end of the year. There's only harm when your organization gets derailed from the unexpected, as it may have been possible to avoid serious roadblocks with the proper planning.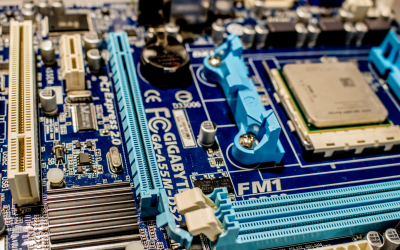 Hard to procure electronics - why are they so expensive?   The price of electronics is skyrocketing, and it could very well be the new normal for the next few years. Considering we are heavily involved in information technology, being a Managed Service Provider (MSP),...